While you were sleeping(Korean: 당신이 잠든 사이에) is a South Korean television series. While You Were Sleeping series is directed by Oh Choong-Hwan and written by Park Hye-Ryun and was aired on SBS from September 27 to November 16, 2017, on Wednesdays and Thursdays at 22:00 (KST) time slot. It consists of sixteen episodes, having sixteen chapters one of 60 min. Its genre is romance, drama, thriller, fantasy, and comedy. This drama is available on Netflix, Viki, KOCOWA, Viu, and Dramacool.
While You Were Sleeping Cast
The main cast of the drama is Lee Jong Suk as Jung Jae-Chan (정재찬), Bae Suzy as Nam Hong-Joo (남홍주), Jung Hae-In as Han Woo-Tak (한우탁), Lee Sang Yeob as Lee Yoo-Beom (이유범). And the supporting cast of drama is Kim won-hae as Choi Dam-dong ,Min Sung Wook as Lee Ji-kwang, Ko sung He as Shin Hee-min, Bae hae -sun as Son Woo-joo, Lee Ki young as Park Dae-young and Park Jin -Joo as Moon Hyang-mi.
While You Were Sleeping Synopsis
The story is based on the lives of three young adults—a field reporter, a prosecutor, and a police officer—who have acquired the ability to foresee future events through their dreams, after saving each other many years ago.
Nam Hong-Joo(Suzy) is a 29-year-old journalist and field reporter who has the power of precognition (the ability to see events in the future), which takes effect while dreaming. She has the ability to see bad events before they occur. However, she is often powerless. She is not able to stop the bad events from happening.
Living across the street from her family's restaurant is the prosecutor Jung Jae Chan(Lee Jun Suk)who has also acquired the same ability to see future events. One day Jae chan receives a premonition of Hong Joo framed for the death of a police officer by the corrupt lawyer Lee Yoo Beom who was the tutor of prosecutor Jae Chan when he was young. So he rushed to stop this event from happening and was able to save the life of a police officer (Jung Hae In) and also saved Hong Joo to be framed by Yoo Beom.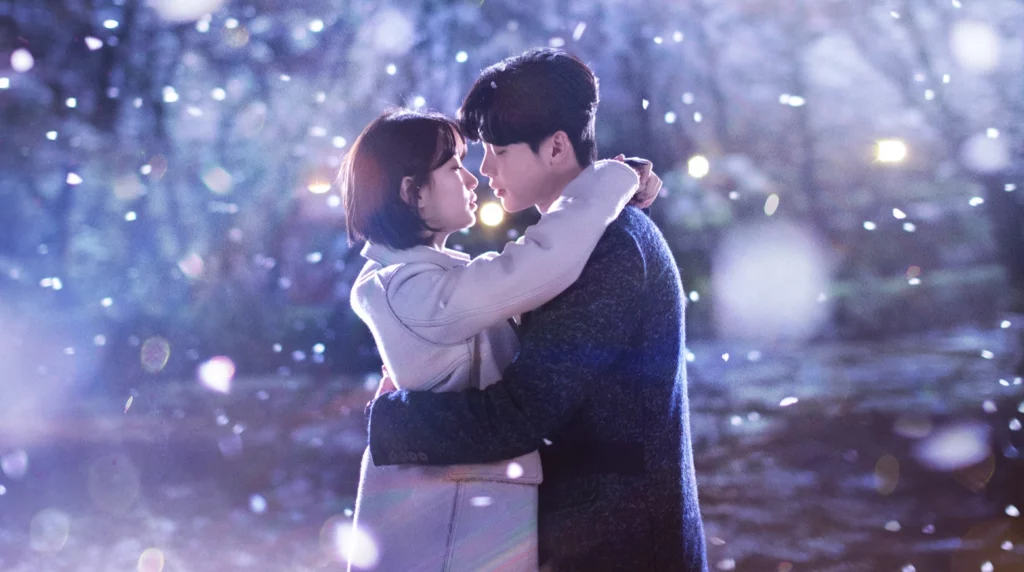 As the prosecutor saved the life of police officer Hae In. He also gains the ability to see future events. The main reason for gaining this ability was that the trio saved each other in different situations. So as to repay the favor they started dreaming about the bad events that will happen in the future related to their lives.
In the story, the three individuals realize that their lives are somehow intertwined through the dreams they keep having of one another. And in every episode, they help each other in different ways to save their lives from bad events.
While You Were Sleeping Episodes
Episode 1: While You Were Sleeping.
The first episode of While You Were Sleeping starts when Hong Joo wakes up from a dream, in her dream, she was hugging a guy on a snowy night. After she woke up, she saw that the same guy who was in her dream shifted with his brother in her neighborhood. While working with her mom, Hong Joo meets a chain smoker who died in her dream. So she tried to save him but she failed. She also dreamt of her mother's death so she cut her hair as she had long hair in the dream.
One night, Jae chan dreams that Yoo-Beom took Hong Joo on a date. and when Hong Joo was coming home with Yoo-Beom and he gets into an accident and a policeman was killed. He said that Hong Joo was driving and she did the accident. when Hong Joo woke up from the coma, she found that her mother is dead due to exhaustion. Jae chan was the prosecutor in charge of this case. Hong Joo was not able to prove her innocence so she end up committing suicide.
When Jae-chan senses that his dream is about to come true on a snowy night, he followed Hong Joo and Yoo-Beom and was able to stop the accident and saved the police officer. Then she hugs and expresses her gratitude to Jae chan as she did in her dream.
Episode 2: The Good, The Bad, and The Weird.
In the second episode of While You Were Sleeping Jae chan comes to know that he shares the same ability as Hong Joo. But they were not able to understand the reason why they see each other's dreams.
At the same time, the girl (Park so Yoon) whom Jae chan's brother(Seung won)loves has her piano recital. After the recital, when the media was interviewing them her mother fainted and the reporters saw footprints on her dress, So Yoon's father tried to cover this up and said he didn't do it.
When her father was arrested, Yoo Beom took his case and created false evidence so that to make it impossible to prosecute the case. Jae chan was disappointed so he said this case cannot be prosecuted. So Yoon sees this that her father will again win. She made a plan to kill her father. Seung won tried to stop her and told her to report it to the police.
After that, Jae chan had another dream. He dreamt that his brother was carried by police for a murder. When he told this dream to Hong Joo . she said she had a similar dream of a man abusing his wife and Seung won pushed him from the balcony and the man died. On the other hand, Seung won told So Yoon to come with him, that he will help her out.
Episode 3: Secretly, Greatly.
In the third episode of While You Were Sleeping Yoon received a call from her mom. So So-Yoon and Seung won rushed to her apartment. And at the same time, knowing that their dreams will come true Hong Joo and Jae chan also rushed toward So Yoon's residence. The police officer(Woo Tak) whom Jae chan saved also had a dream of arresting a schoolboy(Seung Joo), and Jae chan requested him to set the boy free. Then Woo Tak saw Hong Joo and Jae chan rushing across the street so he followed them.
In the Park residence, So Yoon's mother asks her father for a divorce. Jun-mo rejects her offer and just before he starts beating her up, Hong Joo rang the fire alarm and Jae chan catches Seung won. To hide from So Yoon's father So Yoon and her mother went to Hong Joo's house.
Then Jae chan decided to reopen their case. After this event, Woo Tak had another dream that he went to Hong Joo's restaurant with his partner and Yoo Beom came there to convenience So Yoon's mother to withdraw the case to save So Yoon's reputation as a pianist. Frustrated So Yoon tried to injure her hand with a fork but Hong Joo interferes and her hand was injured instead.
To prevent this tragedy from happening, he invited Jae chan to the restaurant. But Jae chan got curious about Woo Tak counting five and then Yoo Beom entered the restaurant.
Episode 4: A Few Good Men.
In the fourth episode of While You Were Sleeping Jae chan was listening to Yoo Beom's conversation with So Yoon's mom and interferes just before the happening of the accident and promises So Yoon's mom that he will prosecute her case. Later Woo Tak tells Jae chan and Hong Joo about his dream but they all were not able to understand the reason why they of all people have these precognitive dreams.
Jae chan started his investigation and found all possible evidence. Hong Joo and Woo Tak both had a dream about Jae chan. so they told him to let his co-worker(inspector Choi dam dong) do an interrogation first. Yoo Beom was already with fabricated evidence and inspector Choi was able to find the truth about So Yoon's father Yoo Beom was disappointed.
Jae chan senses that Inspector Choi is unbiased and accountable in his work and apologizes for his doubt about him.
Episode 5: Don't trust Her.
In the fifth episode of While You Were Sleeping Hong Joo worked with her mother in the restaurant and has left her job as a field reporter in SBC because of a recurring dream in which she was lying on the grass on a rainy day wearing her field reporter's uniform. But she decide to rejoin as now she was able to change her dreams. but her mother was against this plan as she is afraid that the dream will come true.
To convince her mother she saved a coffee shop attendant(Cho hee) with a fire extinguisher who died in her dream due to fire. Jae chan and Woo Tak dreamed about the same incident and helped to keep Hong-Joo safe.
Inspector Choi investigated Cho hee's brothers' accident case in which one of his brothers died and the other drove the vehicle. And her brother refused to do an autopsy of her dead brother's corpse.
Later Hong Joo's mother requested Jae chan to protect Hong Joo and invited him to eat breakfast at their home every day. And on Hong Joo's first day at the office, her co-worker gives her the new uniform of a field reporter which was the same one she saw in her \death dream.
Episode 6: City of The Blind.
In the sixth episode of While You Were Sleeping Cho hee's brother went to lawyer Yoo Beom and told him to handle this case offering him a big amount of money. He told him that he killed his brother to claim his insurance. He mixed his brother's drink with potassium cyanide and crashed the car to make it look like an accident.
Later, Jae chan dreamt of himself and Hong Joo watching tv in which Cho hee's brother was proven guilty and sentenced to life imprisonment for killing his brother and Cho hee. The next day, Jae chan found that Cho hee's brother was already accused of killing his brother and Cho hee was still alive. Jae chan's colleague takes the case but her argument was overruled.
Jae chan was worried because he had another dream, he saw Cho hee's brother attacking Hong Joo and Cho-hee on a building rooftop. Hong-Joo, who was still gathering data about the serial cat poisoning as she was covering a case of 100 cats poisoning, goes with Woo Tak to a chicken restaurant where she once saw a man feeding cats, not knowing that it was actually Cho hee's brother.
Jae chan recalls his two dreams and remembers that Hong Joo was covering a cat poisoning case and he saw in the first dream a pouch with a straw, which was the evidence that proved Cho hee's brother's crime. Then Inspector Choi recalls that the wounds and bloodstains on the victim's corpse were pinkish and near orange, which was a sign of potassium cyanide poisoning. Jae chan and inspector Choi then rushed to the incident site and found Woo Tak wounded and Cho hee's brother was about to attack Hong Joo and Cho hee.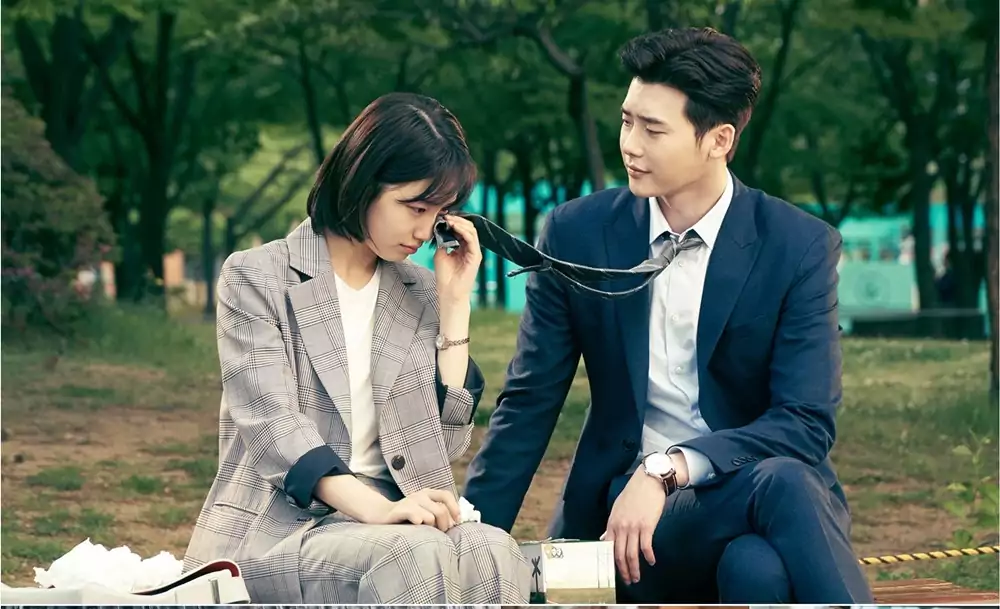 Episode 7: A Secret That Can't Be Told.
In the seventh episode of While You Were Sleeping after rescuing Woo Tak, they arrested Cho hee's brother and with help of evidence, it was found that he was the culprit of the serial cat killer and for his brother's murder and he was sentenced to life imprisonment.
Jae chan and Hong Joo decided to take care of Woo Tak until his recovery. And Woo Tak was attracted to Hong Joo. But he kept it to himself as he saw Jae chan and Hong Joo developing feelings for each other. Hong Joo dreams about Jae chan coming towards her on street with a couple of rings in his hand.
Later, Hong Joo and Woo Tak both had the dream of Do Hak Young who was a roommate of Woo Tak in high school. Hong Joo dreamt that Hak young come to Woo Tak's house and asks for his help in a case. And Woo Tak saw Jae chan interrogating him about Hak young.
Hak young told Woo Tak that he was falsely accused of murder for his client athlete Yoo soo Kyung. As right after he fixed her internet connection Soo Kyung was found dead with a mysterious geometric drawing drawn on the floor with her blood. Hak young told Woo Tak to help him or he will reveal his secret which he is hiding then Woo Tak told Hak young to turn himself in and trust the law.
Episode 8: Pride and Prejudice.
In the eighth episode of While You Were Sleeping after the death of the athlete, Jae chan investigated and questioned Woo Tak about Hak young. He thinks that Hak young is innocent and it is impossible for a person to make that geometrical figure in such a short time. The results of the autopsy show that she was suffering from Otolithiasis and died because of a cerebral hemorrhage.
And Yoo Beom involves in this case from Yoo's family side and said that Jae chan is very time-consuming. He also told Hong Joo to make an online article to help find the evidence of the case and reveal Hak young's personal information. But Hong Joo found it wrong and decided not to do it. And with the lack of evidence, Jae chan let Hak young free.
Soon, Hong Joo becomes so stressed as she saw again the dream of Jae chan coming towards her with a couple of rings but this time she saw that someone stabbed him with a knife before he was able to cross the street.
Episode 9: The Usual Suspect.
In the ninth episode of While You Were Sleeping Hong Joo, Woo Tak, Seung won and Hong Joo's mom all were very sad to hear about the dream of the disaster of Jae chan. Hong Joo knows that this change in her dream was due to the release of Hak young. All the public was criticizing Jae chan for Hak's young release and when Hong Joo was seeing comments on Jae chan's anti page she saw a picture of a robot vacuum cleaner running over a dog's excrement creating a geometric pattern on the floor similar to the blood pattern in Yoo Soo Kyung's case.
On the other hand, when Jae chan was interrogating Soo Kyung's housekeeper, she told them about the vacuum cleaner, then inspector Choi said that she might have been fainted due to Otolithiasis and due to a lot of blood the vacuum cleaner went over the blood and created the geometric pattern.
Later they found the vacuum cleaner in an e-waste disposal facility with help of Hong Joo and Woo Tak. Yoo Kyung's blood was on it and Hak young was proved innocent. When Yoo Beom found out about the success of Jae chan's case. So he provoked Yoo Kyung's father against Jae chan who was in the last stage of pancreatic cancer.
Jae-chan found that Hong Joo was his childhood acquaintance "Bamtori" (Chestnut) whose father was murdered by the same culprit who killed Jae Chan. So he bought a couple of rings to propose to Hong Joo but Hong Joo's dream came true. When Jae chan was running across the street, Yoo Kyung's father shot him in front of Hong Joo.
Episode 10: Boy Meets Girl.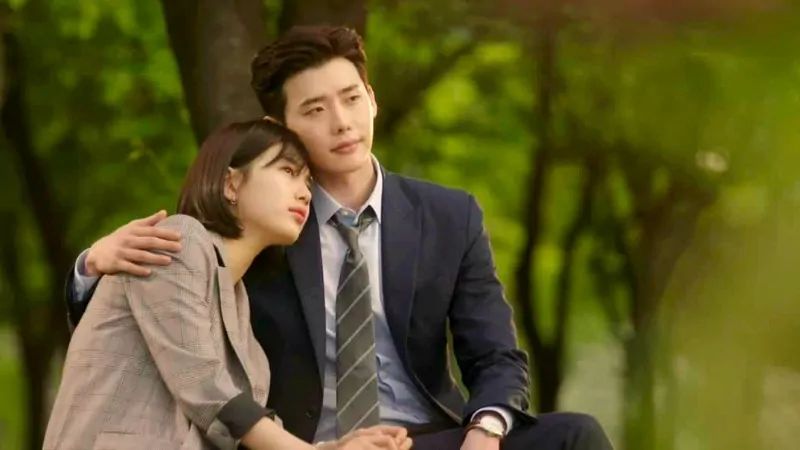 In the tenth episode of While You Were Sleeping After the shooting, Yoo Kyung's father was found unconscious. Jae chan went under emergency treatment and he improved his injury. Yoo Kyung's father was also admitted to the hospital due to his worsening cancer. and Yoo Beom was questioned in which Yoo Beom accused the prosecution of fabricating the evidence that it was the robot cleaner who ran over Soo-Kyung's blood and created the pattern in order to irresponsibly clear Hak-young's name. The prosecutors including Yoo Beom's former colleagues had begun to realize Yoo Beom's true colors.
Hong Joo receives the ring that Jae chan bought with a letter that she gave him when she was a teenager. Now she realizes that Jae chan is the one whose father was killed by a runaway soldier who also killed her father.
Thirteen years ago, Jae chan and her father were killed by the same culprit and they were given the same funeral on the same day. That is where Hong Yoo met Jae chan. The police officer who was the older brother of the culprit asked for forgiveness from Hong Joo and Jae Chan. But they refused to accept his apology. So he tried to commit suicide by drowning. Jae chan decided to help him and went underwater. At first Hong Joo hesitated but later she pulled them up. Due to this event of almost killing Jae chan, she hesitates to wear the ring Jae chan gave her and told him that it pains her to see him.
Jae chan then remembers their teenage days with Hong Joo and escapes from the hospital to find Hong Joo to express his feeling despite thinking about the heavy rain and his wound. Hong Joo had this dream and immediately ran toward Jae chan. At last, they express their love and shared a kiss.
Episode 11: To Die or To Be Bad.
In the eleventh episode of While You Were Sleeping Meanwhile, Yoo Beom got a new client, professor novelist Moon Tae min who had his launch party where his assistant Lee hwan reveals his abusive nature towards his students. professor Moon angrily pushed Lee hwan down the elevator and killed him. Moon found a child cap near the door as someone saw him pushing Lee hwan. Lee hwan was brain dead and was a donor for seven patients. The witness was a five-year-old child.
Hong Joo and Woo Tak both had dreams of Jae chan resigning from his job. Hong Joo saw that Jae chan do the autopsy and won the case but the seven patients left waiting so he resign from his job. whereas in Woo Tak's dream Jae- chan agrees with the organ transplant and reveals in court that Professor Moon is the culprit, but with no autopsy done, Professor Moon is acquitted of the murder charge while Lee Hwan's father blames Jae chan for Professor Moon's release.
Hong Joo told Jae chan about dreams and they both decided to face this situation. Woo Tak arrested professor Moon who was assaulting the kindergarten child. Jae chan decided to do an organ transplant first and then do the autopsy as the injury was only in his head.
Episode 12: Knocking on Heaven's Door.
In the twelfth episode of While You Were Sleeping Jae chan begins with the case whereas Yoo Beom tries to prove Moon innocent. Jae-chan interrogates the kindergartner. With the help of senior prosecutor Son Woo-jo, the credibility of the autopsy results and the possibility of a transplant being done before an autopsy was proven.
Yoo Beom blamed the doctor for Lee hwan's death as his cardiac attack happened after the transplant, not after Moon's crime. Hong Joo protests Yoo Beom's argument. Jae chan said that Professor Moon's crime would have led to Lee Hwan's ultimate cardiac death even without the organ transplant. Professor Moon is finally prosecuted for murder and is sentenced to seven years' imprisonment. With the future once again changed, Jae chan and Hong Joo spend an intimate moment at the beach.
Episode 13: We're On Our Way To Meet You Now.
In the thirteenth episode of While You Were Sleeping when Jae chan and Hong Joo were at the beach, they wish they could meet the police officer whose life they saved thirteen years ago once again. and Yoo Beom gave a offer to inspector Choi and Jae chan's coworker to join his company. But inspector Choi refuses the offer. When Jae chan comes to know about this. He told inspector Choi not to leave this job.
Then Jae chan's brother gave him the last letter or will of Dr. Myunk Yi suk, who was the father of Seung won's classmate and was considered the culprit for killing 11 hospital patients. He committed suicide when he was punished with life imprisonment. But his last note said that he was not the culprit. He was falsely accused. At that time, Yoo Beom prosecuted this case and got the award of Public Prosecutor General.
On the other hand, Hong Joo was covering prosecution work for a tv program on SBC titled "Three-Day Experience." She covered prosecutor Shin in her daily activities and for the night shift, she covered Jae chan who was interrogating a cellphone thief whose paralytic nine-year-old daughter died when he was in jail a decade ago. The thief then gave him a flash drive that contains files from one of the phones he recently pocketed.
Upon investigating, they found 19 photos of hospital patients in which the 11 patients were the one who was killed in Myunk Yi suk's case. Now they understood that the culprit is still out freely and Yoo Beom falsely accused Myunk Yi suk. And when Jae chan and Hong Joo were looking for the phone owner, they were trapped in the fire, and fortunately, inspector Choi came there and saved them.
Episode 14: Catch Me If You Can.
In the fourteenth episode of While You Were Sleeping Jae chan and Hong Joo found that the eight other patients were killed after the arrest of Myunk Yi suk showing that he was not the real culprit. So they started reinvesting the case. With the reopening of the case, it is assumed that there is an error in Yoo Beom and Inspector Choi's investigation, but Jae chan strongly believes in Inspector Choi's innocence.
On the other hand, Yoo Beom began receiving text messages from an unknown source, asking him if he really manipulated the evidence for the case. He was also interviewed by Hong Joo who told him that she already knew that something went wrong with the case. Yoo Beom decides to meet the secret texter at his office late at night. Just as the prosecution and Hong Joo's reporting team found out that it was actually a woman who owned the phone, the secret texter and the real culprit of the serial killing, Ha Joo-an, revealed herself to Yoo Beom.
She tells him about her past that she was a bed-ridden patient having Crohn's disease. She knew that it was evil, but she killed 11 patients and after Myunk Yi suk's arrest killed 8 other patients. he doesn't care if she will be punished but she saw Yoo Beom as a hope. Now the case is being reinvestigated, she knew Yoo Beom's fame as a lawyer may be ruined soon and Joo-an was remorseless about the deaths of the 19 innocent people whom she killed. Then Yoo Beom plans to put Hong-Joo in a trap so that the secret of the case will only be kept between him and Joo-an.
Later, Jae chan found out that inspector Choi is the policeman whom he and Hong Joo saved 13 years ago. When Jae chan seeks to be reconciled with him, he quits his job as an inspector after days of tolerating the suspicions and rumors about him manipulating the evidence in the IV drip killing case and he leaves his resignation letter to Jae chan.
Yoo Beom invites Hong Joo for a late-night interview and added sleeping pills to her coffee. Unaware that this is her death dream Hong Joo drank the coffee, she collapses. Yoo Beom and Joo An took her to the roof of a law firm when it was raining heavily.
Episode 15: Stand By Me.
In the fifteenth episode of While You Were Sleeping Hong Joo starts talking and saying the time and place so that Jae chan can find her through the dream. then Jae chan saw that dream and went to save Hong Joo with help of Woo Tak and the rest of the police. Yoo Beom decides to kill Joo An to get rid of all suspicions. So he took a sleeping pill so that it look like he was also drugged and then pushed Joo An from the roof. At the same time, Woo Tak arrived there, and after that Jae chan arrived there and rescued Hong Joo.
At the hospital, Yoo Beom wakes up and tells his fake story. but he became nervous when he came to know that Hong Joo has also recovered. Jae chan was very angry when he heard that Yoo Beom played victim but inspector Choi calmed him and advised him not to act rashly. The prosecution prepared a lawsuit against Yoo Beom for evidence tampering, murdering Joo An, and attempting murder of Hong Joo.
As the lawsuit verges to its opening, Woo-Tak gets anxious after dreaming that Inspector Choi telling his part in the investigation of the IV drip killing case, Hong Joo's statements getting impeached, and finally, his own long-hidden secret going to be exposed. The evidence lists were reviewed on the first day of the lawsuit. Lawyer Ko disagreed with the statements presented by Inspector Choi, Hong Joo, and Woo Tak and requested the judges for a subpoena to be imposed on the three. Later Hong Joo, Woo Tak, and Jae chan spent time with each other.
On the next day, the trial began with cross-examining inspector Choi. Inspector Choi admits that he was a part of the inspection of the seized items related to the IV drip serial killing case. but Jae chan said that Yoo Beom fabricated this evidence to gain a position in lawyer Ko's firm. Next Hong Joo was interrogated and her statements get impeached since Lawyer Ko insisted that she had been drugged and could have only been hallucinating. Then Jae chan impeaches Yoo Beom's statements since he declares that he was also drugged by Joo and should be assumed to be hallucinating also during the incident.
Hong Joo was worried that Woo Tak will describe the umbrella wrongly as she knew he was color blind which is strictly unacceptable for policemen and one of the grounds for dismissal.
Episode 16: Goodbye, My Friend.
In the sixteenth episode of While You Were Sleeping Inspector Choi tells Jae chan that Yoo Beom is planning to run from Korea. Woo-Tak is being questioned and reveals his color blindness, shocking Jae chan and everybody in the court. But he says that he can describe the umbrellas by their shades and forms. By describing the shape of the umbrellas and using Yoo Beom's green necktie and the red lace on Jae chan's robe as color references, he was able to convince the judges. He also tells that he will resign after the trial.
Lawyer Ko gives up as he knew that they will be defeated in the next trial. Yoo Beom rebukes inspector Choi and hit inspector Choi with his car in front of Jae chan. Then the police took Yoo Beom and dying inspector Choi tells Jae chan that he also has dreams. Jae chan thanks inspector Choi, and apologize for not recognizing him when he first met him. Then inspector Choi dies. And Yoo Beom accepted his crimes and was sentenced to life imprisonment.
Later Jae chan and Hong Joo went to Woo Tak to give him books so that he can study law and become a lawyer. At last Hong Joo and Jae chan attended the wedding party of senior prosecutors Ji Kwang and Son Woo Joo who were secretly dating.
In the last or the closing scene Jae chan tells Hong Joo one of his choices which he never regrets " his choice of meeting up with Hong-joo whom he had been looking for since they last met thirteen years ago". And the story ends here.
Also Read: Normal People Season 2 Release Date and Everything you need to know