One of the main thing which most of us sees before buying a smartphone is its display whether it is an AMOLED display smartphone or OLED. So today we will talk about two different types of AMOLED displays and compare them so that you can find one of your choices and buy a smartphone with that display. Here we will do a comparison between Fluid AMOLED vs Super AMOLED which makes it clear for you which display suits you best.
As we all know if we use our smartphone then our eyes will all focus on the display which makes the display a very important thing in smartphones. So it is really necessity to check your preference first that which display you like more between Fluid AMOLED vs Super AMOLED.
It is very common to see most of the people thinking that the best display at present is Super AMOLED and they should buy a smartphone with Super AMOLED only but it is not true as now most of the smartphone companies producing more and more Smartphones featuring Fluid AMOLED display why so? You will get to know it more briefly later in this article.
What is Fluid AMOLED Display?
The first company to use an AMOLED display on its smartphone is Samsung it is the very first to feature its smartphone with different types of AMOLED Displays. But fluid AMOLED is a display that was first featured by OnePlus on their OnePlus 7 series smartphone.
The display they use are spread from edge to edge and are of 90Hz refresh rate, at 2k resolution in one plus 7 pro after that the company decided to name its display as Fluid AMOLED display, unlike Samsung's Super AMOLED.
They further explain that Fluid AMOLED displays are AMOLED display screens calibrated for less power consumption while producing color-popping images and are operated at more than 60hz refresh rates.
Also Read: Anti Aliasing on or off Which is Better? Full Explained
What is Super AMOLED Display?
Unlike other AMOLED Displays Super AMOLED can simply categorize as a brand of Samsung. Super AMOLED displays are special displays created by Samsung with an integrated touch panel. It is common for other companies also to have integrated touch panels but they are only known as simple OLED or AMOLED displays whereas Samsung addresses Super AMOLED, especially as their own creation.
Let's explain further what is the special touch panel that Samsung used in the Super AMOLED displays. Samsung explained it as instead of using a layer that recognizes touch on the top of the screen, the layer is integrated into the screen itself which improves the touch screen quality as well as the picture quality.
They further explain that Super AMOLED displays will automatically adapt to various lighting environments to make it easier on the eyes while providing great picture quality when playing games or watching your favorite multimedia.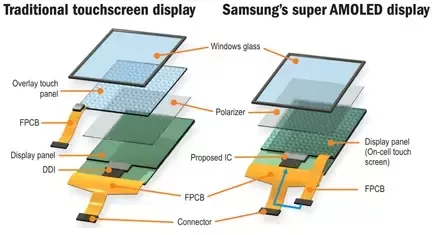 Fluid AMOLED vs Super AMOLED
Now finally which one is better among Fluid AMOLED vs Super AMOLED. If we keep it short and simple then we must already know the difference much better among these two displays as one is like a brand itself while the other one is now featuring on most of the latest smartphones including brands like OnePlus.
It is all up to you whether you choose Fluid AMOLED or Super AMOLED and can compare them according to your need and your favorite brand if you're a follower of a brand like Samsung then Super AMOLED is one for you but you can also go with Fluid AMOLED as they provide a good refresh rate and other better features also.
So between Fluid AMOLED vs Super AMOLED, you can now easily differentiate and choose your favorite.
Also Read: How to Ping a Phone? Easy Ways to Ping a Phone to find its Location