While using or logging in to Snapchat many users face different errors. And one such common error that most Snap users started facing recently is the SS06 Snapchat Error code. The SS06 error code basically occurs on Snapchat when a user tries to log in to their account many times and failed to log in.
But how to fix it? Just like many other Snap users maybe you're also looking for a solution to fix it. If yes then you're at the right stop here in this article we will be going to tell you how you can fix the SS06 Snapchat Error code easily.
Snapchat is one of the most popular and used social media applications around the world. Snapchat users send and receive snaps to their friends and maintain a snap streak as a token of friendship. Daily millions of people use Snapchat applications and log in to their snap accounts.
But what happens if you face an error code while logging in to your Snapchat account? You will definitely get annoyed so in case you're in the same boat then read this article and try some easy ways to fix the SS06 error code on Snapchat.
But before moving to the main topic let us first discuss the problem and the causes behind the problem below.
What Exactly is SS06 Snapchat Error Code?
It is quite common for social media users to face new error messages on the platform daily. But still, users get fed off and want to get rid of these errors as soon as possible. SS06 is another common error code that appears on the Snap user's Login screen.
SS06 error code appears on users' screens when their account gets disabled and they cannot log in to the account at the moment. Snapchat can disable your account for many reasons like when you input the wrong credentials too many times. Or when snap detects some suspicious activity on your account.
But whatever the reason the error message is quite annoying as you cannot log in to your account and use your Snapchat. So to fix it you need to go through the full guide and follow the fixes that we're going to state below.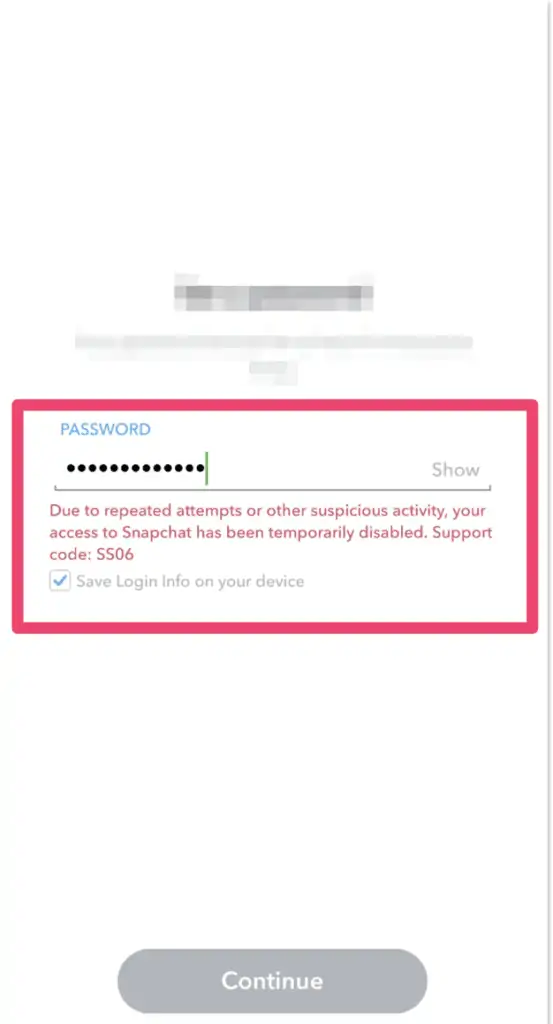 What Causes SS06 Snapchat Error Message?
There are many different reasons why you're facing this error message on your Snap login screen. Some of the most common causes behind the error are:
You have entered the wrong credentials too many times.
Snapchat has detected suspicious activity on your account.
Snapchat servers are down.
Your Internet connection is slow.
How to Fix "Snapchat SS06 Error Code"?
There are various ways to fix this error message on Snapchat. But here we will only be going to talk about the best and the most effective ones below.
Fix #1. Check if Snapchat Servers are Down
Before moving to any fixes below the first thing you need to make sure is that Snap servers are working properly. If the servers are down then there isn't anything that you can do to solve your error problem. All you can do is wait until Snapchat restores its services.
To check out the working of Snapchat servers visit the down detector site and search for Snapchat. You will get to know the Snapchat outage in the last 24 hours. If servers are working properly then move to the next fix below.
Fix #2. Check if your Internet connection is working properly
The problem may lie with your internet connection. Weak and unstable connections may lead to some minor errors and glitches. So it is recommended to always connect with a good and stable internet.
To check out if your internet connection is good. Just type "Internet Speed test" on your search engine like google. And then click on the button "Run Speed Test" showing up on your screen. Now internet test will be conducted and it will show if your internet is stable or not.
And if your network connection is weak or unstable then we recommend you switch to another network. Or connect to a good Wi-Fi and then check if the Snapchat error is solved or not. You might also be connected with a VPN connection if yes, then log out from VPN and see if the error is solved or not.
Fix #3. Try Unlocking your Snapchat Account
Due to suspicious activity, Snapchat may lock your account and that's why now you're not able to log in. If you're guessing that this might be the case then we recommend you try unlocking your Snap account.
To unlock your Snapchat account follow the steps below:
Redirect to the following link: https://accounts.snapchat.com/accounts/unlock.
Now enter your Snap credentials and log in to your Snapchat account.
Now from the screen select the "Unlock" button.
At last, after clicking on the unlock button wait for some time and your Snap account will get unlocked.
After unlocking your account go to your Snapchat app and try logging in to your account. And see if your error code is fixed or not and if not then move to the next fix below.
Fix #4. Contact Snapchat Support Team
If none of the above fixes work for you then the only option you have left is to ask for help from Snapchat Support Team. The Snapchat support team consists of many experts that will guide you and help you to fix your SS06 Snapchat error.
Follow the steps below to contact Snapchat support and Report your problem:
Go to the following link: https://help.snapchat.com/hc/en-us/requests/new.
Now select the option "I can't access my account" from the options appearing on your screen.
After that select the option "I see an error message when I log in".
Now Snapchat will ask you "Still need help" you have to tap on the "Yes" option next to it.
A contact form will appear on your screen, you have to read and fill in all the boxes that will help the Snapchat team to understand your problem properly.
After filling up the form attach the Screenshot of the error message.
At last, after filling out and reviewing the full contact form click on the submit button to submit your request to Snapchat.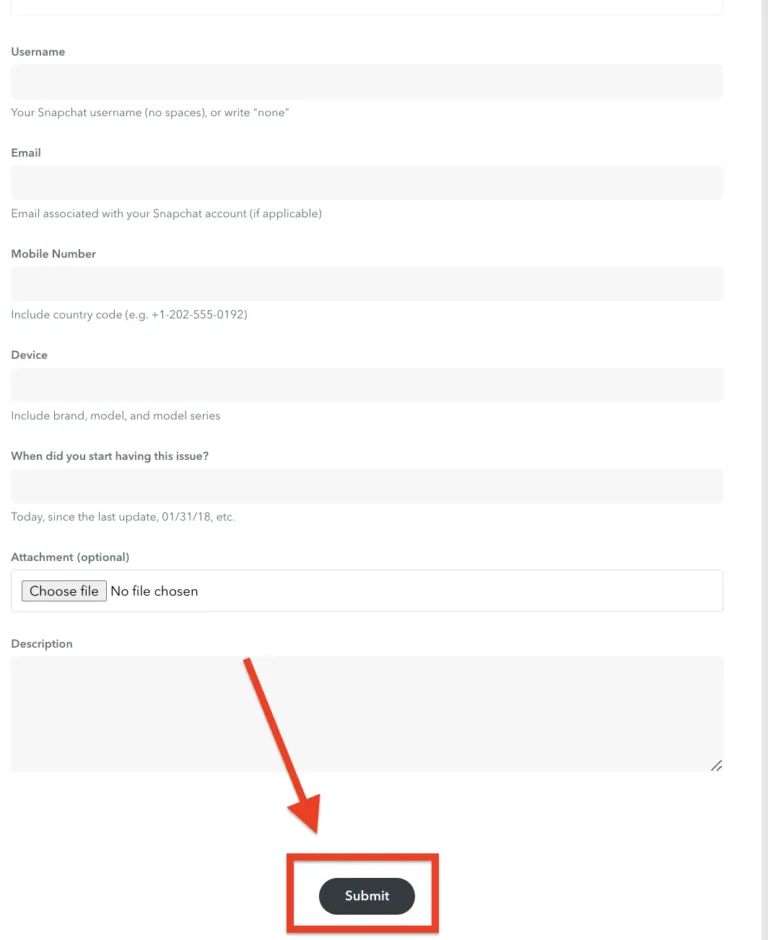 Now you have to wait for Snapchat to review your request. After they see through it properly they will contact you on their own and guide you on how to fix your problem.
Conclusion
In the above article, we discuss some easy and quick fixes to solve the "SS06 Snapchat Error Code". But in case you still can't fix your problem and want our further guidance then feel free to contact us anytime. We will try to reach out and help you as soon as possible.
Also Read: