Asus has recently launched its new Powerful and Unique Laptop of 2020 named it as Asus Zenbook Flip S 2020. This is a 2-in-1 Convertible 4K OLED panel Laptop.
The main and special thing to be focused is about its screen this laptop is come with best display in 13-inch screen size variant. As we all know the OLED panels are the most successful screen panels in TVs' but now it is becoming more popular in Laptops as it delivers Fantastic and Fabulous experience to the user as compared to IPS LCD displays.
But the main drawback of having the OLED panels are limited battery life as we can see it in the previous Samsung Galaxy Chromebook model also which offers even less than 5 hours of battery span on one charge. And it will also be the same with this Asus Zenbook Flip S 2020 as this thin and light OLED panel device cant make enough space for a better battery in it.
Asus Zenbook Flip S 2020
The screen is the main point of concentration to this device as it comes with a gorgeous OLED screen panel which is best as a display for laptops and TVs. It gives a very glossy and fabulous look to the device users get bright display pictures, vibrant colors, very deep blacks in the panel of the laptop. ZenBook covered 100 percent of the sRGB gamut and 100 percent of the Adobe RGB gamut, and it reached 452 nits at maximum brightness which is more than enough for any of the laptops device.
If we talk about laptop design wise it is again beyond imagination and expectations as the company design the laptop with weighing only 2.65 pounds (1.2kg) and thickness of the laptop is just about 0.55 inches (13.9mm) which is a pretty one for any Laptop.
Also read: HP Spectre X360 14′ new Powerful Laptop launched by HP
Asus gives fold-under hinge in this Asus Zenbook Flip S 2020 which slightly lifts your laptop keyboard deck slightly. Company claims that the hinges were tested about 20,000 open / close cycles and will long last enough. In this laptop company added an edge-to-edge keyboard and squeezed an extra column of keys onto the right side that includes Home, Page Up, Page Down, and End.
This Asus Zenbook also contains the feature of NumberPad 2.0. which gives an additional feature to the user when they tap a tiny icon in the top right corner of the touchpad, an LED touch-based Numpad pops up. With the Numpad open you can also navigate to the touchpad and click around it.
If we talk about the processor of the Laptop then we say it isn't that much pretty good in this price range as it comes up with a quad-core Core i7-1165G7, Zenbook contains Xe integrated graphics, 16 GB of RAM, and a 1 TB of SSD.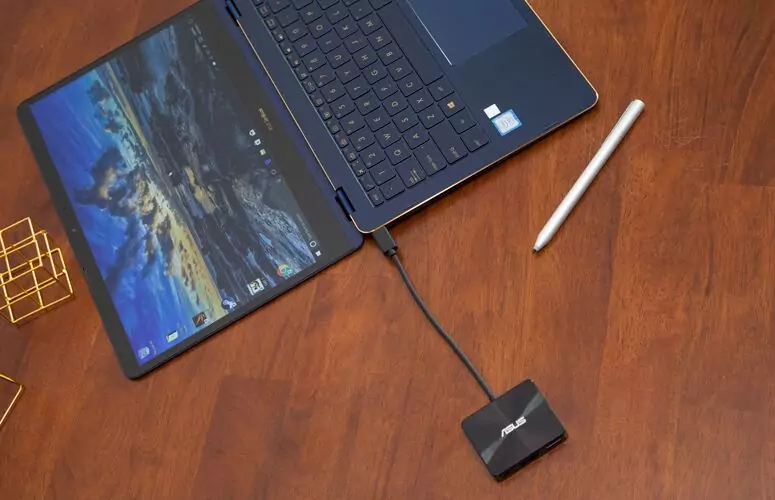 Bad Stuff in the Laptop
Along with the Positive side, everything have a negative also as this Laptop also have some bad stuff in it lets talk about them below:
The major drawback of this laptop is its Battery life which is very low the reason behind it is its OLED touch panel. The Zenbook comes up with a 67Wh battery, the reports state that the time taken to drain of full battery is about 5 hours and 15 minutes which could be increased by the user if they set the screen resolution to 1080p but if you regularly do so then what is the advantage of buying an OLED screen display PC just save your money and buy a 1080p Laptop.
If we talk about another drawback or bad stuff of this laptop then surely it came up with containing no Headphone Jack The port selection of the laptop is fine but one jack of headphone should also be given in a laptop. Asus says it removed that in the name of thinness, and the Flip does ship with a dongle. But other competitors of Zenbook also give the Headphone jack as it is important to be contained by any of the laptops.
The CPU is the main component of any PC and Laptop but this time Asus didn't perform better to choose its CPU/processor this time as the company should offer much better CPU even we can see other Laptops in the market at this price range which contains much better processor than this Asus Zenbook Flip S 2020.
Price of the laptop
Now the last and important thing to be discussed here is the pricing of the Laptop. This time Asus costs its new Asus Zenbook Flip S 2020 laptop with a price tag of $1,449, According to me which is more as if we compared it with other competitors in the market.
The Company decided to launch its new product later this month or we can assume it to be launch in the end of the month.