Today on Friday Asus launched its new Asus AiO V241EA dual functionality PC with all-new Intel 11th gen processors. This new PC from Asus is a Windows PC that aims to enable consumers to meet their computing needs and video conferencing needs. Not only this, but the company also states that the main motive of V241 is the consumption of multimedia content like watching movies, TV, and playing console games.
This is an all-rounder budget segment PC from Asus which is mainly design and develop for users who are looking for a PC under budget for consumption of multimedia. The PC is available in India with a price costs of Rs. 61,990/-. Along with V241EA Asus also launch the Asus AiO A222 PC powered with 10th Gen Intel Core processors available with a starting cost of Rs. 25,990/-.
Asus AiO V241EA
Now let's talk about some of the features of the new Asus AiO V241EA PC, the PC powered with the latest Intel 11th Gen Tiger-lake i5 processor paired with the latest better graphics solution Intel's Iris Xe. This makes this budget segment PC capable of running games with low graphics and decent fps.
The PC features 23.8-inch Full-HD Nano Edge wide viewing angle display and a nearly invisible bezel display which is only 2mm which makes the display design more effective and provides users around 88 percent body-to-screen ratio.
If we talk about the available ports in the new PC then we can say the V241EA consists full complement of I/O ports which includes four rear-mounted USB 3.2 Gen 1 Type-A ports which are specially made to provide users about 10X more transferring speed than the USB 2.0 also for more user convenience company provides a USB 2.0 port along with an audio jack located on the bottom edge of the screen.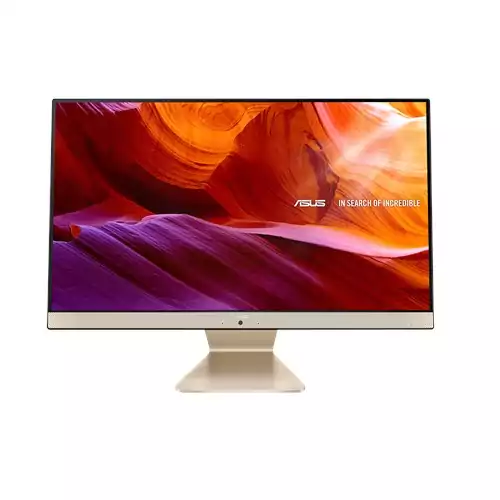 Asus AiO A222
The company also announced the launch of AiO A222 along with its V241EA which will feature a 22-inch full HD display. With Asus high bass quality speakers and Tru2life video technology.
The new A222 is powered with a 10th Gen Intel Core i5 processor to provide users an ultra seamless and effortless experience paired with up to 8 GB DDR4 RAM. Both AiO A222 and AiO V241EA feature support for dual-storage capability, with up to a 1TB HDD and up to a 512GB SSD.
Also Read: BEST PS5 GAMES 2021: LIST OF BEST GAMES YOU CAN PLAY